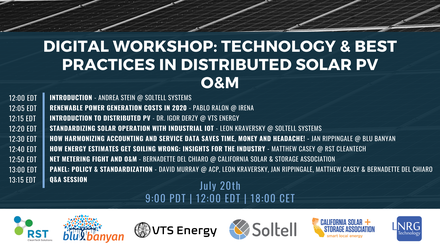 Learn how technology and best practices in distributed solar O&M will define the future of the distributed solar PV market. This event is designated for professionals affiliated with distributed solar PV, including solar fleet managers, rooftop solar integrators, local & regional authorities, solar policy advocates, and solar association members.
Speakers & panelists include Pablo Ralon - Renewable Cost Status & Outlook Officer at IRENA, Dr. Igor Derzy - high-ranking Energy Expert at VTS Energy and former Deputy Chief Scientist of the Israeli Ministry of Energy, Bernadette Del Chiaro - Executive Director of CA Solar & Storage Association, David Murray - Solar Policy Director of ACP Association, Leon Kraversky - Senior Energy Analyst and CEO of Soltell Systems, Matthew Casey - CEO of RST CleanTech Solutions North America and Jan Rippingale - CEO of Blu Banyan, an award winning NetSuite Solutions Provider for solar installers focused on enabling the efficiencies necessary to reduce soft costs. Also thanks to the American Clean Power Association and Polskie Towarzystwo Fotowoltaiki PV Poland for supporting the event.
During the course of the event the following topics will be discussed (EDT time schedule):
12:00 | Greetings | Andrea Stein @Soltell Systems
12:05 | Renewable Power Generation Costs in 2020 | Pablo Ralon @IRENA
12:15 | Introduction to Distributed PV | Dr. Igor Derzy @VTS Energy
12:20 | Standardizing Solar Operation with Industrial IoT | Leon Kraversky @Soltell Systems
12:30 | How Harmonizing Accounting and Service Data Saves Time, Money and Headache! | Jan Rippingale @Blu Banyan
12:40 | How Energy Estimates Get Soiling Wrong: Insights for the Industry| Matthew Casey @RST CleanTech Solutions N. America
12:50 | Net Metering Fight and O&M | Bernadette Del Chiaro @CALSSA
13:00 | Panel: Policy & Standardization | David Murray @American Clean Power Association, Bernadette Del Chiaro, Leon Kraversky, Jan Rippingale, Matthew Casey
13:15 | Q&A Session
Event registration via Eventbrite (registration closed).

See you in the next event of the Distributed Solar O&M series.