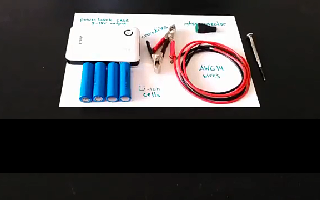 Video tutorial for assembling a 12V car battery charger by LNRG Technology. When your vehicle's battery is depleted and there is no one around to ask for cables to start up your engine and no immediate towing service, in most cases - you can simply replenish your car's battery with a 13.5-15.0V charger. The described DIY charger is designed to charge-up a discharged 12V Lead-Acid car battery, which in most cases shall be sufficient for ignition. The described charger is NOT capable of starting-up an engine due to current limits (requires a different kind of cells).
Please note that the assembly process requires quality materials and tools; improper assembly or bad parts can be dangerous when connecting to car's electric system.
Required materials and parts:
1. Charger case 9-15V output (for Li-ion cells)
2. Four Li-ion cells 3.7-4.1V
3. A wire interconnector and DC-DC connector
4. Two wires AWG 14 or similar
5. Two Crocodiles
For the full tutorial, please watch the videos.